History
The Kingston District Fire Department was established in 1944 by a group of local citizens that identified the need for a dedicated fire service in the village of Kingston. Over the years with the growth of 14 Wing Greenwood military base and the construction of new county fire boundaries the department began to really grow. It was started by only a handful of gentlemen and has since grown to a roster of 60 firefighters, of which almost 20% are women.
Since the department's establishment it has been located at three different locations. First was on Victoria Street, the building now houses the Annapolis Valley Wellness Center. Second location was Main Street, which is now the Kingston Village Office. Finally, the station found a home at 570 Sparky Street. The street was built specifically for the fire station, and during the construction, the naming of the street was a contest at the local elementary school. Classes each provided a name, and one was chosen as a winner. Many of the students in the winning class were children of past or current firefighters, and a plaque still hangs in the rental portion of our fire station with all the students' names.
During the department's 60+ years of service there have only been six people to hold the position of Fire Chief; all of which contributed to the advancement of the department within the Annapolis Valley Fire Service.
• HO "Shorty" Stronach: 1944 – 1971
• Murray Kinsman: 1972 – 1981, 1987
• Brian Varner: 1982 -1986
• Craig Caldwell: 1988 -1990
• James McMaster: 1991 – 2000
• Watson Armstrong: 2001- current
---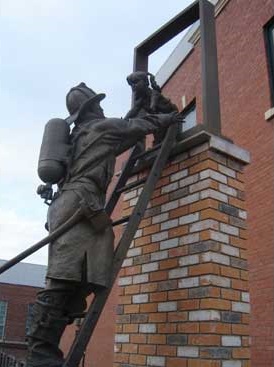 As the department moves forward, we continue to recruit new members, both male and female, from many different backgrounds & lifestyles. We hope to have the opportunity to be on the front-line of fire service deployment and technology as time goes on.